Diversify SA's energy needs
SOUTH Africa has recognised the need to have energy security through diversity but still needs the private sector's support to make this possible, Deputy Minister of Energy Barbara Thompson said yesterday.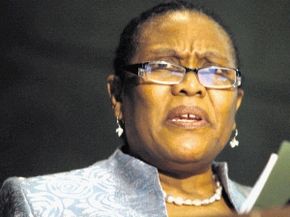 Thompson was addressing hundreds of delegates at the Energy Indaba held at the Sandton Convention Centre.

She said policy and the regulatory framework developed by her department was to "unlock infrastructure investments and ensure the security of supply of both petroleum products and electricity."

"Our energy policies recognise the need for us to have energy security through diversification."

Thompson said the country remained a coal-based economy but continued to observe international efforts to reduce green house emissions and other pollutants.

"In this regards we will continue to invest in wind, solar technologies, carbon capture and storage and other clean coal technologies.

"The department is finalising the Integrated Resource Plan for electricity. The plan addresses the country's energy mix in the next 20 years," Thompson said.

"In the same vein, we have started with the process of developing the Integrated Energy Plan which will test various long-term alternatives for the energy sector as a whole and also assess how the energy sector should contribute to broader government objectives as the New Growth Path and the aspirations to move towards the green economy."

But Thompson said government was concerned that investment by the private sector had not happened on the scale that was originally envisaged.

She said that government had committed to a target of a minimum of 30percent participation by the private sector in electricity generation.

Jayendra Naidoo, executive chairperson of investment company J&J Group said: "While there were energy challenges in Africa, there was a positive future outlook for Africa.

"Resources that we've not always recognised are now being taken seriously, such as oil, gas, solar and wind."

He added that although there was unrest in North Africa, the continent had stabilised and this was good for investment in energy infrastructure.

Naidoo said most of the infrastructure in Africa had been designed for extraction of resources only and not for use by citizens.

"It is important for government to turn this infrastructure into one that benefits the citizens," he said.

He said the continent also needed a leadership that would see Africa utilise its energy resources better.

"You have to find some way in which the power grid will be intergraded with other power producers in the region," Naidoo suggested.

"The imperative is not just to produce more power but to produce it clean. We need a concerted effort between business, Eskom and government to address the energy challenge."

Naidoo said more emphasis should be put on saving energy than imposing taxes on electricity users.
|